Пpодаём базы данных по чёpным/цветным металлам
| | |
| --- | --- |
| Отчёты: WinSteel 5.0 - International Translator of Steel database | |
WinSteel 5.0 - International Translator of Steel database
---
| | |
| --- | --- |
| | WinSteel, ver. 5.0 database contains data on more than 70,000 steel grades of 28 countries: CIS, USA, Germany, UK, Japan, France, Italy, Canada, Finland, Norway, Sweden, Austria, Spain, Switzerland, Belgium, Korea, Australia, Brazil, China, Poland, Hungary, Czechia & Slovakia, Bulgaria, Romania, former Yugoslavia, as well as grades included in European (EN) and two international (ISO and UIC) standards. |
---
Fast searching of data on compositions and equivalences within seconds;
Printing data on grades and equivalences;
Saving data on steel grades and equivalences in HTML files;
Comprehensive User's Guide with illustrations of operation with the software;
Context Help and our technical Support Service;
Software updates every 3 months during the warranty period of 12 months ensures that you have the most complete and up-to-date information on world steel grades;
---
Ability to find foreign equivalences for steel specified in any national standard;
Two levels of the grade equivalence search: Fast Search that is the easiest way of search and the Advanced Search for specialists;
Ability to find steel if you know only its chemical composition;
Search for the steel grade in the database by Mask (used if you don't know correct grade designation).
---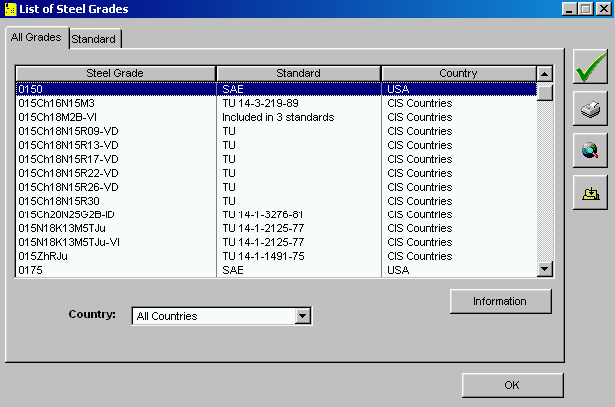 WinSteel 5.0 database contains data on more than 70,000 steel grades of 28 countries: CIS, USA, Germany, UK, Japan, France, Italy, Canada, Finland, Norway, Sweden, Austria, Spain, Switzerland, Belgium, Korea, Australia, Brazil, China, Poland, Hungary, Czech Republic, Slovakia, Bulgaria, Romania, former Yugoslavia, as well as grades included in European (EN) and two international (ISO and UIC) standards.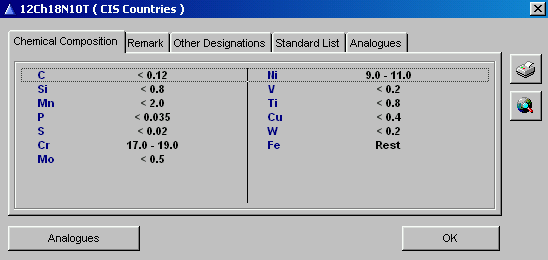 Every steel grade in the database includes:


its chemical composition;
additional information (remark);

list of standards which cover the grade;
information on other designations of the grade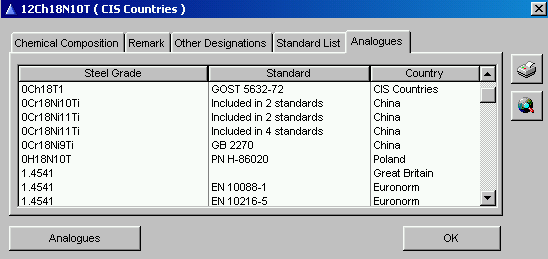 as well as a list of its foreign analogues, which had been made by our experts on the basis of the standards' analysis, guide books, brochures and catalogues of steel companies.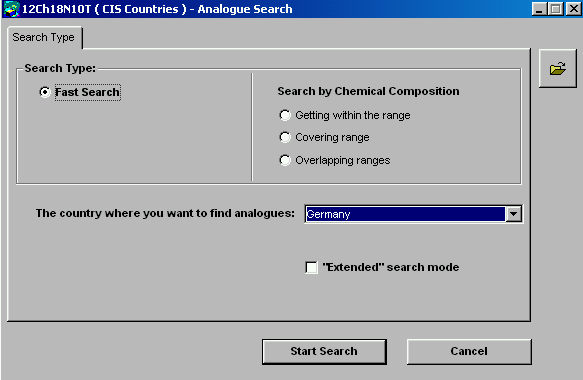 WinSteel provides two search options for foreign equivalences of steel grades: 1) Fast search which is the easiest one to use. 2) Advanced search (comparison of chemical compositions) which will best suit specialists.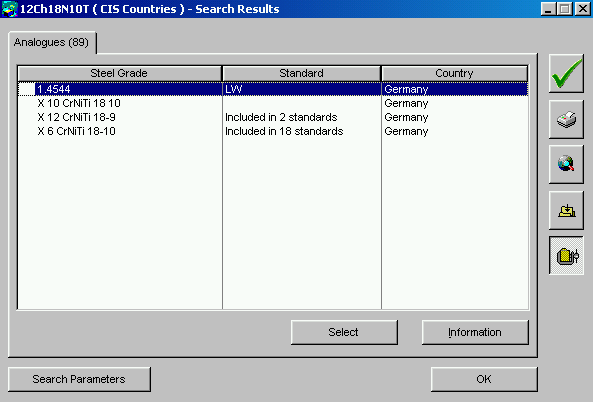 In your search results you will find a list of foreign analogues of the required grade in the country selected.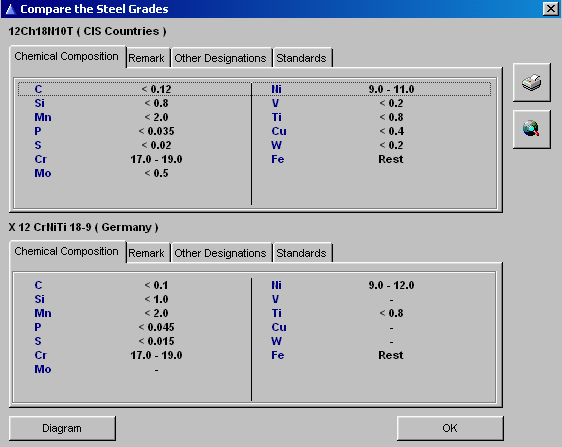 You may then compare both grades in a table one underneath another.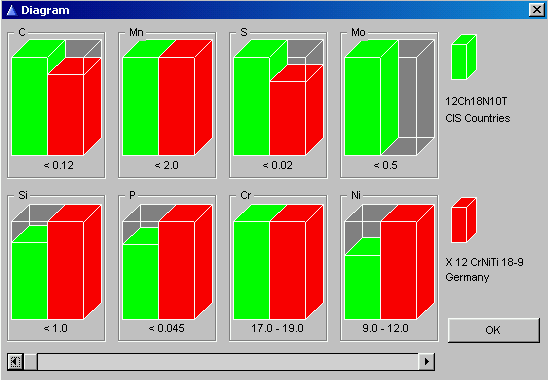 Comparison can also be made by graphic forms. Information on selected grades can then be printed as well as saved in .html file.
---
Windows 95 / 98 / NT 4.0 / 2000 / ME / XP;
35 MB of free hard disc storage;
Pentium / Pentium II / Celeron / Pentium III / Pentium IV;
16 MB RAM or more and CD-ROM read driver.
---
| | |
| --- | --- |
| 1 user licence: | 350 EUR |
| 2 to 5 user licences: | 525 EUR |
| 6 to 10 user licences: | 700 EUR |
| Delivery cost: | 60 EUR |
| Delivery courier: | UPS |
---
Реклама